WKS Bayern-Afrika: Stakeholder map makes networks and cooperations of Bavarian and African R&I-institutions visible
30/11/2022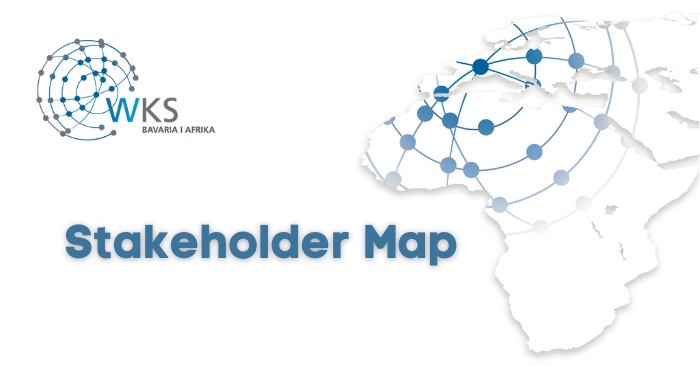 Click on the stakeholder map for more information on projects, partnerships and institutions involved in cooperation between Africa and Bavaria in the fields of science, research and innovation:
www.innovation-africa-bavaria.org
The projects and partnerships cover a wide range of thematic areas. Institutions include universities, universities of applied sciences, research institutions, companies, international organisations and civil society organisations. The Bavaria-Africa Stakeholder Map not only increases the visibility of existing collaborations, but is also intended to serve as a reference point and inspiration for stakeholders in Bavarian-African cooperation.

Any institution in Africa and Bavaria that is active in the fields of science, research and innovation can register their cooperation free of charge. The activities can cover all thematic priorities. The institutions are not limited to a certain sector or size.
You can also enter your institution and/or cooperation in the fields of science, research and innovation with Africa and Bavaria here to be displayed on the map. You can register any activity in the fields of science, research and innovation with an African or Bavarian partner. If you want to register business relationships, they must play a very important role in the field of innovation to be eligible for the map. If you have any questions, please feel free to contact us at Bayern-Afrika@no-spam-pleasebayfor.org.
About the WKS Bavaria-Africa
The aim of the Scientific Coordination Office Bavaria-Africa (WKS Bayern-Afrika) is to deepen the cooperation between Bavaria and Africa in science, research and innovation. In doing so, it supports both the Bavarian course of building long-term partnerships in Africa and the European course of seeking closer cooperation between the European Union and Africa.
BayFOR regularly provides targeted training to African and Bavarian institutions on the rules of participation in EU funding programmes and the administrative project management of research projects in order to initiate joint cooperation projects in science, research and innovation. Further information can be found here.