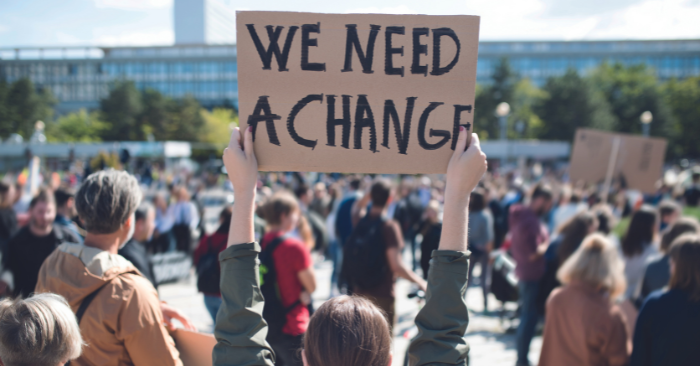 Description
Programme: Horizon 2020 – Green Deal
Funding amount: EUR 6.8 million, of which EUR 141,000 for Bavaria
Funding period: 02/2022–02/2025
Coordinators: Dr. Ingeborg Niestroy, Research Institute for Sustainability, Helmholtz Centre Potsdam, and Manuela Gervasi, European Environmental Bureau (EEB)
Website: www.realdeal.eu
EU project REAL DEAL: Reshaping Citizen Participation for the European Green Deal
The European Green Deal (EGD) is the EU's most ambitious plan yet to make Europe the first climate-neutral continent by 2050. For this to succeed, European citizens need to be involved in the decision-making process. The aim of the EU project REAL DEAL is to develop innovative tools and processes for citizen participation, reaching out to everyone.
Developing and validating innovative tools to strengthen deliberative democracy
The EGD aims to involve European citizens in decision-making in order to reduce the low level of trust in European governments and the distance from political decision-makers. The EU project REAL DEAL (Reshaping European Advances towards Green Leadership Through Deliberative Approaches and Learning) therefore brings together researchers in the field of deliberative democracy from a wide range of disciplines, including political science, law, sociology and psychology. They will work together with the largest EU civil society networks and non-governmental organisations in an interdisciplinary way to reach millions of citizens and thousands of political decision-makers. To identify the right approach, REAL DEAL will develop and validate innovative tools to take deliberative democracy to the next level. These innovations will then be tested at citizens' meetings in 13 European countries.
'Leave no one behind' - Towards a Europe-wide environmental citizenship
As a next step, the consortium will develop recommendations for the design of such processes and their context-specific application in European institutions, member states and civil society. Particular attention will be paid to the principle of 'leave no one behind', which promotes the engagement of disadvantaged groups disproportionately affected by environmental damage. The broad consideration of gender equality is a particular concern of the project. The aim is to develop a new model of environmental citizenship across Europe. This new model will cover issues such as the following: causes of inequalities in the EU, sustainable food systems and agriculture, energy transition and climate policy, sustainable mobility, green consumer behaviour and production processes (including circular economy, waste management and chemicals). Coordinated by the Research Institute for Sustainability at the Helmholtz Centre in Potsdam, the project involves a total of 16 partners from nine countries. Bavarian partner is WECF – Women Engage for a Common Future e. V.
BayFOR@Work
"The BayFOR team's willingness to provide advice at any time has been a great help to us in carrying out the tasks involved in the application process, but also in the subsequent project work. It's not only the competent support, but simply the fact that we have a partner behind us that is of great importance to WECF, not only in this project."
Dr Anke Stock, WECF Germany