BayFOR participates in hydrogen delegation trip to Chile and Colombia
25/06/2022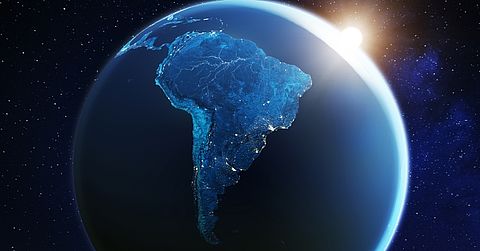 The trip, jointly offered by the Bavarian Ministry of Economic Affairs, Regional Development and Energy and Bayern International, is aimed at managing directors and board members of Bavarian companies and institutions whose products and technologies contribute to the development of a green hydrogen economy and international H2 supply chains (technology export, (research) partnerships, industrial application, import of green H2). BayFOR will participate in the programme with networking meetings, political talks, company visits and workshops in Santiago de Chile, Calama, Antofagasta as well as Bogotá, Bucaramanga and Cartagena.
Bavaria and Chile maintain close cooperation in diverse areas such as climate protection, environmental protection, water management and renewable energies. Currently, the green hydrogen economy is becoming an increasingly important focus of the cooperation. Chile is the first country in Latin America with a strategy for green hydrogen, wants to produce the world's cheapest green hydrogen by 2030 and be one of the world's three largest exporters by 2040. With the Bavarian Foreign Representative Office South America on site, the Centre Hydrogen.Bavaria (H2.B) and H2 Chile, Bavaria has already been able to establish a network of relevant contacts and content, which will be expanded during the trip.
Since 2018, Colombia has had the energy policy goal of significantly increasing its installed renewable energy capacity, which will rise from 50 MW to 2,500 MW by the end of 2022. In September 2021, Colombia published its Hydrogen Roadmap. The German government is in talks with Colombia on joint initiatives to expand the production and export of green hydrogen to Europe. Ecopetrol, Latin America's fourth largest oil producer and one of the world's top 40 companies of its kind, visited Bavaria in 2021 and was able to obtain important input for the Colombian hydrogen strategy. In March, Eccopetrol announced its intention to focus more on geothermal energy and hydrogen in order to reduce the country's dependence on fossil fuels. The interest in close cooperation with international actors is therefore high in Colombia.
Event time
19 to 25 June 2022
Venues
Chile: Santiago de Chile, Calama and Antofagasta
Colombia: Bogotá, Bucaramanga and Cartagena.
Contact
Dr Thomas Ammerl
Head of Unit Environment, Energy & Bioeconomy
Phone: +49 89 9901888-120
E-mail: ammerl@no-spam-pleasebayfor.org
Back to events