Information & Matchmaking Event: EU Calls for Proposals 2023 on Battery and Hydrogen Technologies
14/02/2023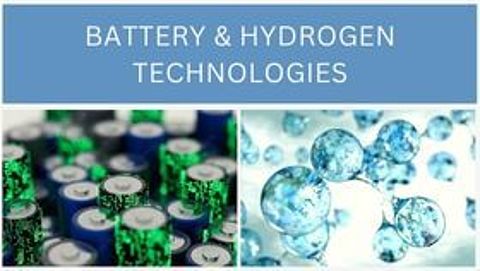 The transition to climate neutrality, including through clean and low-emission mobility, holds significant opportunities for further economic growth, job creation and technological development in Europe. The demand for batteries will grow very quickly in the coming years as they play a key role in achieving the goals of the European Green Deal. The topic of hydrogen as a promising energy carrier is also becoming increasingly important. The EU Commission offers attractive funding for research and innovation projects in these two areas.
The aim of our international event is to bring together interested Bavarian and international stakeholders from science and industry and to inform them about the new calls for proposals in the fields of battery and hydrogen technologies from the 2023-2024 work programme of various EU funding programmes.
The following information and networking opportunities await you on 14 February
During the information part of the programme, you will learn about the latest developments and trends in EU research policy from selected experts from the EU Commission. The thematically responsible National Contact Points (NCP DIT, PT Jülich, NCP KEM) will provide a well-founded overview of the current battery- and hydrogen-related calls for proposals in various EU funding programmes. These are:
Battery Topics:
1) Horizon Europe (speakers from NCP DIT)
2) M-ERA.NET (speakers from NCP DIT) / ERA-MIN (speakers from PT Jülich)
Hydrogen Topics:
1) Horizon Europe (speakers from NCP KEM)
2) Clean Hydrogen Partnership (speakers from NCP KEM)

You will find all the new calls on battery and hydrogen topics summarised here in this document.
In addition, successful EU funding applicants will present their own projects.

During the matchmaking part of the event, you will also have the unique opportunity to get in touch with other participants with similar topic interests, to network and possibly initiate an EU project proposal.

On the day of the event, you will be given access via a web link to a matchmaking platform where you can select your preferred topics and find potential international partners who have selected the same topics. You can contact these participants via the platform for possible cooperation on EU proposals. The platform will remain open for networking purposes after the event.
Event time
Tuesday, 14 February 2023
Time: 9 am - 3:30 pm (CET)
Format
The event will take place online via GoToWebinar.
Agenda
You will find the agenda of the event here.
Event language
English
Participation fee
The event is free of charge; registration is required.
Registration
The event is fully booked.
Contact at BayFOR
Dr Panteleïmon Panagiotou
Head of Unit Information & Communication Technologies | Engineering & Natural Sciences
Bavarian Research Alliance GmbH
Phone: +49 (0)89-9901 888-130
Email: panagiotou@no-spam-pleasebayfor.org
Back to events