UAS4Europe Conference 2019: Beyond Horizons – The future of applied research in Europe
02/04/2019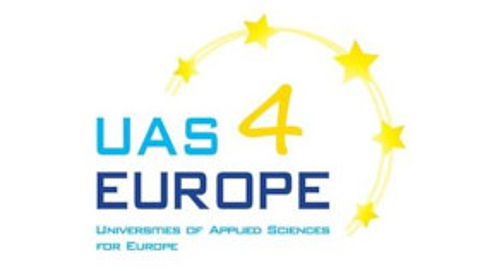 Applied research is seen as a key driver for more innovation and hence indispensable for competitiveness, growth and the creation of jobs, which are major priorities of the European Commission. Thus, research funding programmes are increasingly designed to boost innovation, which actually creates ideal conditions for universities of applied sciences (UAS). However, UAS are still not enough represented in research funding at the European level.
The UAS4Europe daytime Conference 2019 will give researchers and EU (policy) officers working at European UAS the opportunity to learn more about the current funding situation under Horizon 2020. This is especially interesting for researchers in applied sciences. Enough time for networking offers possibilities to find partners for joint projects or to exchange experiences. The high-level political panel discussion in the evening will focus on the chances and challenges for UAS with a new European Commission and a new European Parliament, and of course within the new EU research framework programme Horizon Europe.
The main goal of the conference is to inspire and bring together European research partners in the field of applied research, but also to address the challenges which universities of applied sciences (UAS) in Europe and their innovation partners are facing when engaging in research activities at EU level.
The programme of the UAS4EUROPE conference consists of the following two parts (afternoon and evening):
13:00-17:00 – Afternoon Working Sessions: What can UAS do for Europe?
This part includes three interactive sessions (in two rounds: 15:45-16:15 and 16:30-17:00):



Brilliance and Brilliant Failures - Best Practices (plenary theatre session & wine lounge)
"Only those who dare to fail greatly can ever achieve greatly " (Robert F. Kennedy). We can often learn most from our brilliant failures. This session focuses on the crucial factors leading either to a successful application or to the obstacles which will cause a proposal to fail. Do you have an excellent EU-funded innovation project at your UAS, or do you want to share a brilliant failure: let us know! Read more information and find out how to apply by clicking here!
Social Café: Blind Braindates (beer cellar)
Networks are not formed only through policy notes. Innovation does not happen by itself. It starts with a spark, a brilliant idea, while gathering the right people around you. In the Blind Braindate Café, potential research partners meet for brief 'braindates' (only 5 minutes!), to exchange knowledge or even better: business cards! Let the spark for your next brilliant research start at the UAS4EUROPE conference. More information can be found here!
Poster Presentation (plenary theatre)
Do you want to present your research project, search for partners, or provide extra information about your UAS (in the field of research and innovation): this is your chance! There are limited spaces for partners from within our network available.
Read more information on our website, and find out how to apply here!

18:30-22:00 – Evening Networking Event: the future of applied research in Europe
During the evening part of the conference an inspiring key-note speaker of the European Commission will go 'Beyond Horizons' and talk about the connection between several European research programmes, such as Interreg and Horizon. Thereafter, there will be a discussion among members of the European Parliament about their view on the future of European research, and the particular role of UAS. This is especially interesting in light of the upcoming elections.
Our guests will be:
Bernd Sibler, Bavarian State Minister of Science and the Arts
Jean-David Malo – Head of Task Force of the European Innovation Council (EIC) of the European Commission
Kick-off speeches by European Commission, DG RTD and DG REGIO
Lieve Wierinck (ALDE) – Member of European Parliament, ITRE
Monika Hohlmeier – Member of European Parliament, BUDG
Researchers and EU Relation Officers from all over Europe
Date and Time
Tuesday, 2 April 2019
13 – 22hrs
Venue
Representation of the Free State of Bavaria to the European Union
Rue Wiertz 77
1000 Brussels
Belgium
Further information and registration
Please find the afternoon programme here and the evening programme here.
Please register here until 22 March 2019. Participation is free of charge, but registration is required.
Contact
UAS4Europe
Naomi Krekelberg
Bruno Van Koeckhoven (UASNet)
E-mail: info@no-spam-pleaseuas4europe.eu
UAS4EUROPE aims to strengthen the role of universities of applied sciences at the European level. It is a joint initiative from EURASHE, UASnet, swissuniversities, Hochschule Bayern e.V., and the Austrian FHK.
Contact at BayFOR
Mag. Karin Lukas-Eder
BayFOR Representative / EU Liaison Office in Brussels
Phone : +32 2 5134121
Email : lukas-eder@no-spam-pleasebayfor.org
Back to events