UAS4EUROPE High-level Evening Reception
15/03/2017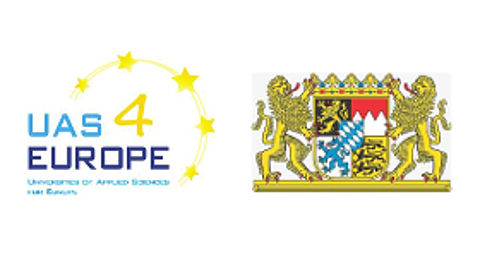 UAS4EUROPE High-level Evening Reception
Time
18h30 – 22h00
Venue
Representation of the Free State of Bavaria to the European Union,
Rue Wiertz 77, 1000 Brussels
Rationale
Research funding programmes are more and more designed to boost innovation, which actually creates ideal conditions for UAS. However, UAS are still underrepresented in research funding at the European level. The evening reception aims at shining a light on the reasons behind the current situation as well as at discussing possible new approaches in order to maximize the success of UAS in Horizon 2020 and beyond. Use this opportunity to bring your ideas to the table and to get in touch with interesting stakeholders from science, politics and industry!
Target audience
The evening reception addresses decision makers and researchers at UAS as well as stakeholders from universities, industry, politics, and public authorities.
Programme
A keynote speech will be delivered by Keith Sequeira, European Commission, Cabinet Moedas, followed by a panel discussion with high-level panelists on "Taking Universities of Applied Sciences (UAS) to the next level: How to optimally participate in Horizon 2020 and beyond".
Practical Information
A preliminary agenda can be found here: download agenda
Participation is free of charge.
For registration, please click here.
You will receive an automatic notification if your registration has been sent successfully. However, please wait for the final confirmation of participation before booking your flights and accommodation. Final confirmations will be sent out in January. In case of an over-subscription, we will strive at welcoming researchers from as many European countries as possible.
Contact
Anna Toivonen
Phone: + 32 (0)2 2114197
E-mail: info@no-spam-pleaseuas4europe.eu
UAS4EUROPE aims to strengthen the role of universities of applied sciences at the European level. It is a joint initiative from EURASHE, UASnet, swissuniversities, Hochschule Bayern e.V., and the Austrian FHK. For further information, please visit www.uas4europe.eu.
Back to events