UnILiON Annual Event 2020: "Future-proofing the universities of the future: learning from the Covid-19 pandemic and looking ahead"
17/11/2020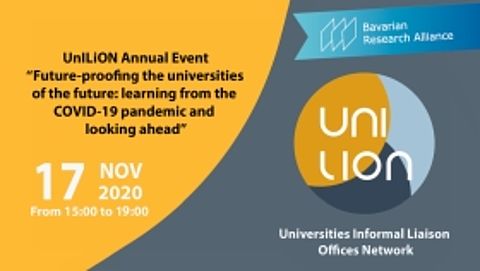 With university closures, the Covid-19 pandemic has introduced abrupt changes in teaching and learning and interrupted the majority of research activities. This health crisis provides a unique opportunity to explore new approaches to deliver high-quality education, excellent science and innovations that are more than ever needed to build a different model of society.

Senior representatives of UnILiON's member universities will review emerging education challenges and address what can be done for universities in the aftermath of the COVID-19 pandemic. The role that the UniLION universities play in the fight against the pandemic will be assessed as well. The programme also includes a panel discussion with high-level policy-makers.
For those who wish to participate physically, more information will be made available in the coming weeks. The event will also be broadcast online via livestream.
About UnILiON
UnILiON (Universities Informal Liaison Offices Network) is an informal network of 49 Brussels-based liaison offices representing more than 150 excellent universities in Europe, Japan and Russia. The network represents an arena of exchange where the participants share information, nurture collaboration and act as information multipliers towards the represented organisations. UnILiON offers a single entry point to a world of excellent universities.
Date and time
Tuesday, 17 November 2020, 15:00 – 19:00 hrs (CET)
A detailed program can be found here.
Venue
Brussels (exact location TBC) and online
Registration and participation
The annual event is planned as a hybrid model event until there is more clarity on travel restrictions in Belgium.
Please register here.

The event is free of charge.
Further Information
The event website can be found here.
BayFOR contact
Karin Lukas-Eder
BayFOR Representative / EU Liaison Office in Brussels
Phone: +32 2 5134121
Email: lukas-eder@no-spam-pleasebayfor.org
Back to events